Description
Automated Bathymetric Surveys with the Apache 3
Bathymetric surveys are critical for mapping the underwater topography of bodies of water, such as lakes, rivers, and coastal areas. The Apache 3 offers several key advantages for professionals in this field:
1. Single-Beam Autonomous Echo Sounding: The Apache 3 is equipped with an autonomous echo sounder, making it a valuable tool for bathymetric surveys. This technology allows the device to send out acoustic signals, measure the time it takes for these signals to bounce back from the seafloor, and create precise depth measurements. This single-beam echo sounder can provide detailed information about the underwater terrain.
2. High-Precision Positioning: For bathymetric surveys, precise positioning is crucial. The integration of GNSS RTK technology, in combination with the CHCNAV i50 receiver, enables the Apache 3 to determine its position with exceptional accuracy in three dimensions: x, y, and z. Surveyors can rely on this data to georeference the bathymetric measurements accurately.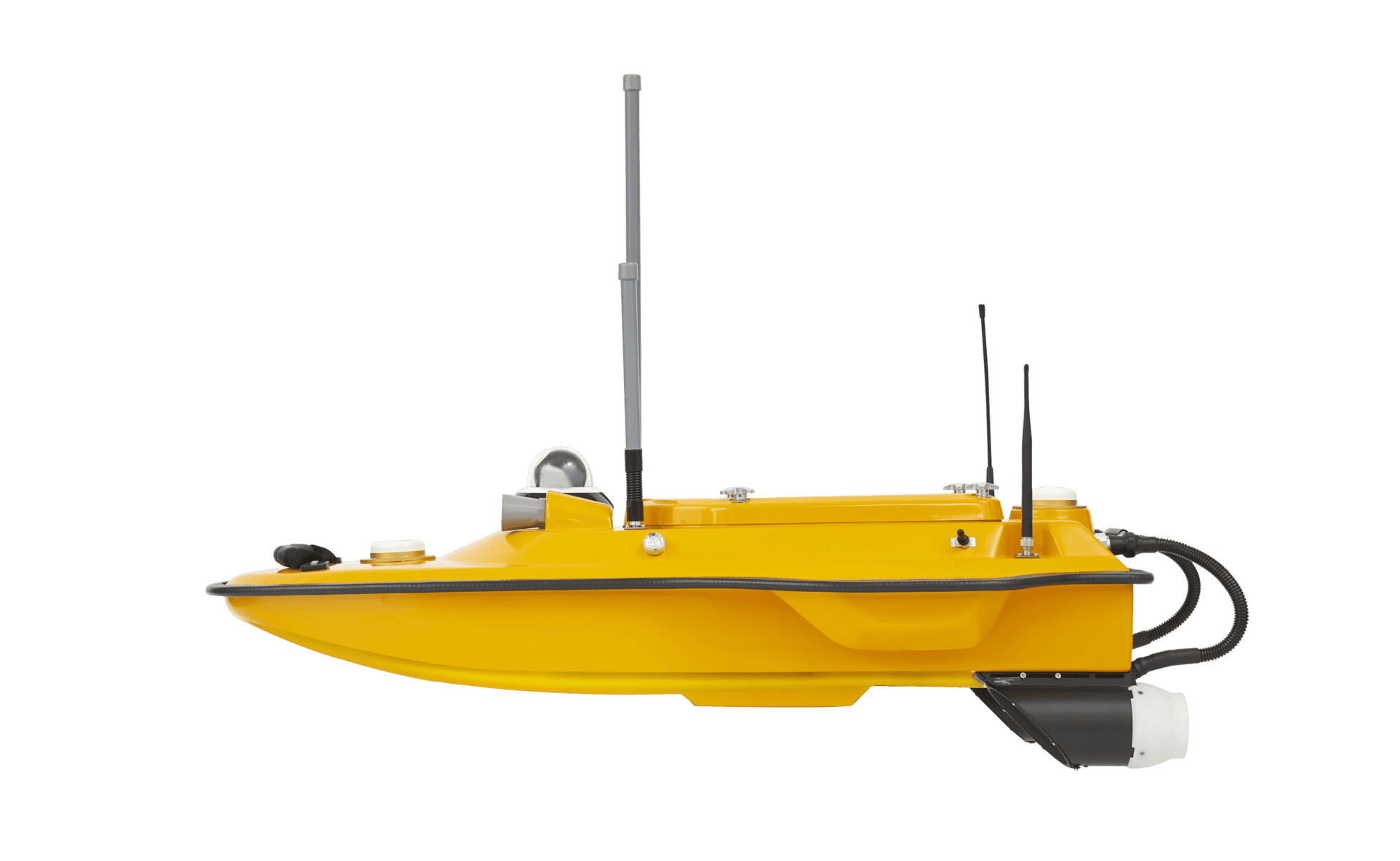 3. Autonomous or Manual Operation: Surveyors have the flexibility to choose between autonomous and manual operation of the Apache 3. This adaptability is essential, as it allows professionals to select the most suitable mode for their specific survey objectives. In autonomous mode, the USV can follow pre-programmed survey paths, reducing the need for constant operator intervention.
4. Triple-Hulled Vessel Design: The Apache 3's triple-hulled vessel design enhances stability, an important feature when conducting bathymetric surveys in various water conditions. The detachable hulls offer adaptability for different mission environments, ensuring that the USV maintains a balanced and steady course, resulting in more reliable and consistent data.
5. Absolute Linear Technology: Bathymetric surveys require maintaining a straight sailing course to ensure accurate depth measurements. The Apache 3 incorporates high-precision positioning and heading technology, guaranteeing that the USV follows a precise and straight path, even in the presence of complex currents. This feature minimizes the risk of erratic depth data collection.
6. Real-Time Video Feedback: The inclusion of a high-resolution video camera on the Apache 3 is a significant asset for surveyors. It provides real-time video feedback of the USV's surroundings, even when it's out of the operator's line of sight or during foggy conditions. This live video feed enhances safety and situational awareness, which is especially valuable during critical phases of a survey, such as riverfront surveys and when navigating through areas with potential grounding hazards.
7. Cost-Effective Solution: The Apache 3's all-in-one design and autonomous capabilities can result in cost savings for bathymetric survey projects. The reduction in the need for additional boats, operators, and equipment simplifies logistics and minimizes operational costs.
CHCNAV's Apache 3 is a versatile and efficient tool for bathymetric surveys. Its ability to operate autonomously, high-precision technology, triple-hulled vessel design, and real-time video feedback make it an excellent choice for engineers and surveyors seeking to collect accurate and reliable data for underwater mapping and analysis. The cost-effectiveness and flexibility of the Apache 3 add to its appeal as a valuable asset in the field of bathymetric surveying.