Description
Step into the future of precision surveying with the AU20 LiDAR system by CHCNAV, a revolutionary solution tailored to the exacting demands of engineers. Boasting unparalleled accuracy, cutting-edge laser capabilities, and unshakable industrial reliability, the AU20 is the ultimate tool for engineers seeking precision and efficiency like never before.
Unrivaled Precision: A Pioneer in Accuracy
The AU20 is the result of CHCNAV's relentless pursuit of precision, refined over two decades. Powered by a high-precision navigation algorithm, it achieves an astounding 5 mm repeated ranging accuracy, culminating in an absolute accuracy of 2 to 5 cm. This precision remains unwavering in the most challenging environments, ensuring your data is consistently on point.
Premium Laser Performance: Redefining Possibilities
The AU20 opens up a world of surveying possibilities with its premium laser capabilities. With a survey range of up to 1450 meters, rapid scanning at an incredible 2 million points per second, and a seamlessly rotating mirror enabling up to 200 scans per second, the AU20 sets new standards for detail and clarity. Complex tasks are now supported with unrivaled precision and intricacy.
Industrial Reliability: Unyielding Performance
Survey missions come with their share of unpredictability, from changing weather to on-site challenges. With the AU20, you're equipped with industrial-grade reliability. The CHCNAV Alpha family systems are built to excel in any field environment, ensuring your operations remain dependable in all conditions.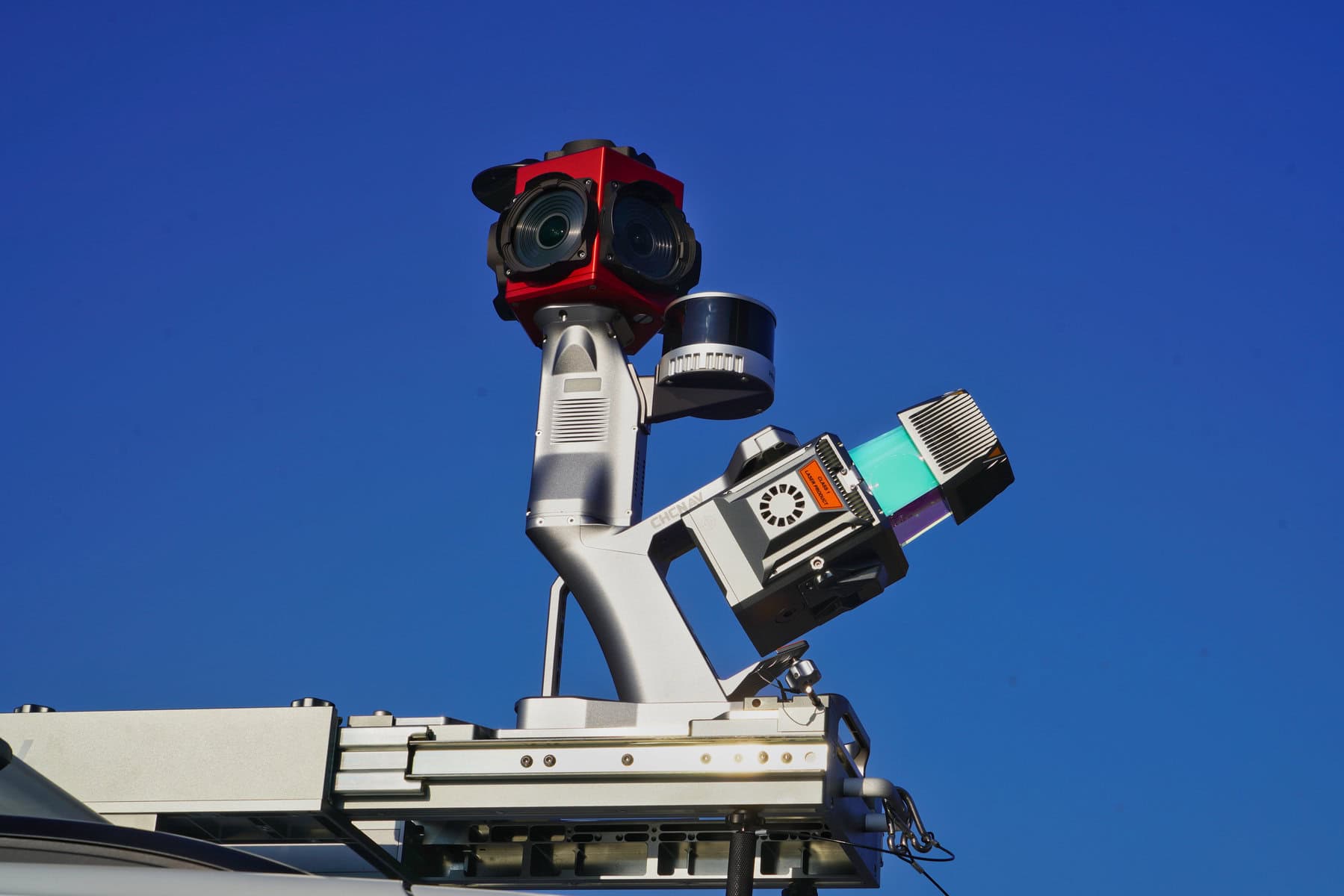 Effortless Mobility: Lightweight Maneuverability
Experience unmatched mobility with the AU20 LiDAR system. Weighing just 2.82 kg, it's incredibly lightweight and compact. Paired with the innovative car mount kit featuring the Ladybug5+, the combined weight is a mere 10.7 kg, making the AU20 a genuinely portable powerhouse.
Multi-Platform Versatility: Adapted to Your Needs
The AU20 adheres to CHCNAV's renowned multi-platform LiDAR design concept, offering exceptional versatility. It seamlessly integrates with both manned and unmanned aircraft for aerial scanning and various land vehicles, including cars, boats, and trains, for mobile mapping. On foot, it can be effortlessly mounted on a backpack for narrow area mapping, ensuring it adapts to your surveying requirements with ease.
Efficient Workflow: Precision Streamlined CHCNAV provides a comprehensive LiDAR surveying solution with the AU20. Enjoy fully automated reality capture and real-time mission monitoring through SmartGo software. Intelligent point cloud processing is made possible through the CoPre desktop software, ensuring your workflow is not only efficient but also remarkably precise.
Robust Penetration: Overcoming Challenges with Ease Navigating challenging environments with dense vegetation is effortless for the AU20. It supports up to 16 target echoes, offering superior penetration ability. It accurately captures ground surfaces and generates Digital Elevation Models (DEMs) and Digital Surface Models (DSMs) even in the most demanding circumstances.
Seamless Integration: Effortless Setup Installation is a breeze with the AU20's Alphaport technology. A single click connects the system to its power source and camera, streamlining the setup process.
Flexible and Efficient LiDAR Solutions: Redefining Boundaries The AlphaUni 20 emerges as a cost-effective, multi-platform mobile mapping system that reshapes your surveying capabilities. Six years of innovation and product development, driven by CHCNAV's state-of-the-art LiDAR technology, ensure the AU20 delivers unmatched data quality, accuracy, and density. Its flexible installation, combined with CHCNAV's cutting-edge technology, guarantees your data surpasses expectations. The AU20 democratizes the reality capture industry, making precision accessible to all. From road surfaces to asset management, the AU20 adapts to your needs, putting the power of comprehensive mapping in your hands.
Elevate Your Engineering Surveys with AU20 Embark on a new era of surveying with the AU20 LiDAR system. Precision, versatility, and reliability come together to redefine what's possible in engineering applications. Whether capturing vast landscapes from the skies or navigating dense vegetation on the ground, the AU20 empowers you with unrivaled data accuracy. Experience the future of surveying with the AU20.