Description
Since 2007, GeoMax has offered a wide variety of surveying and construction solutions. Based out of Switzerland, GeoMax is part of the Hexagon family and can draw on their vast resources to offer the best possible product. GeoMax designs products for surveyors, construction, mining, GIS, layout and more. Within the GeoMax line of surveying products, you can always find a solution that fits your specific needs. 
GeoMax is behind many of the most popular manual and robotic total stations including the Zoom10, Zoom95 and more. Their products can be used in a variety of applications including; topography, cadastral and construction surveys. Their products are known for their high-quality and precision, as well as their user-friendly design and reliability. In addition to their hardware solutions, GeoMax provides software solutions for field and office work.
The GeoMax Zoom95 is the latest robotic total station from GeoMax, that has incorporated all the lessons from the previous generation Zoom90. Robotic total stations are perfect for those that need a higher degree of accuracy than that provided by a GNSS system, or are in an area where traditional GNSS surveying is not possible. With a robotic total station, you can obtain the precision possible with a manual total station, but avoid the cost of a second rod man. The system is entirely self contained and can be run by one operator. 
Accuracy Options: 1″, 2″, 3″ 5″
Range: Up to 2500 m with Prism, 500 and 1000 m Reflectorless Options Available
Bluetooth Range: 800 m
Max Speed: 90 km/h at 100m
The GeoMax Zoom95 is fully compatible with many different software packages including X-Pad and MicroSurvey's FieldGenius. When paired with the Mesa you get a long range robotic solution that allows for accurate measurements and easy data pickup. Plus with the ability to perform your own calibrations, you can keep your instrument dialed in. 
With the STReAM360 technology, the GeoMax Zoom95 quickly tracks, aquires and locks to the prism ensuring you can always take the shot you need. 
Scout: A vertical laser fan is emitted from the instrument as it rotates. As soon as reflections from a prism are received, the Zoom95 accurately aims at the prism. 
TRack: The target is continuously tracked. The Zoom95 can track prisms moving at up to 90 km/h.
AiM: The Zoom95 aims accurately at the prism without having to look through a telescope.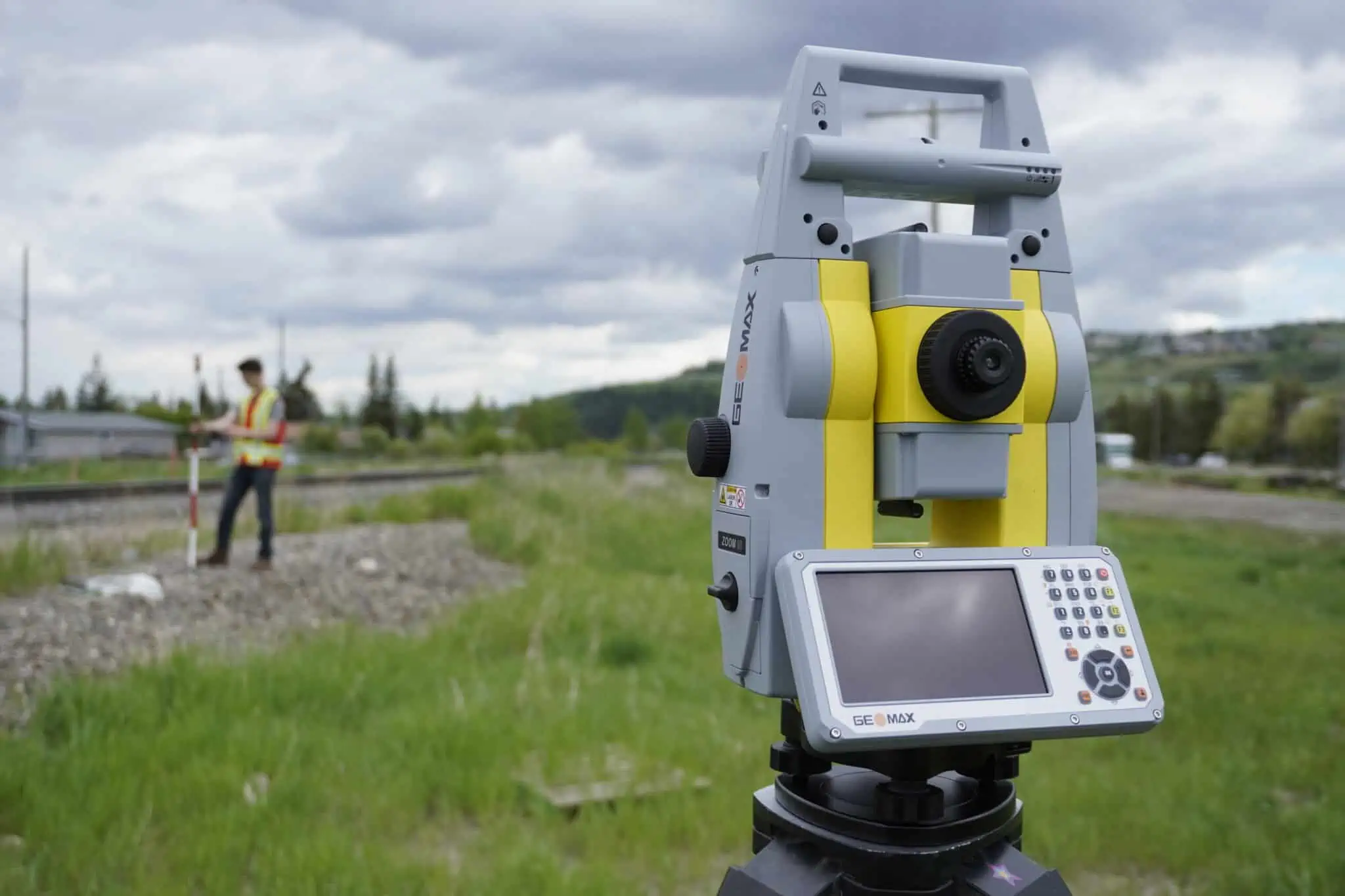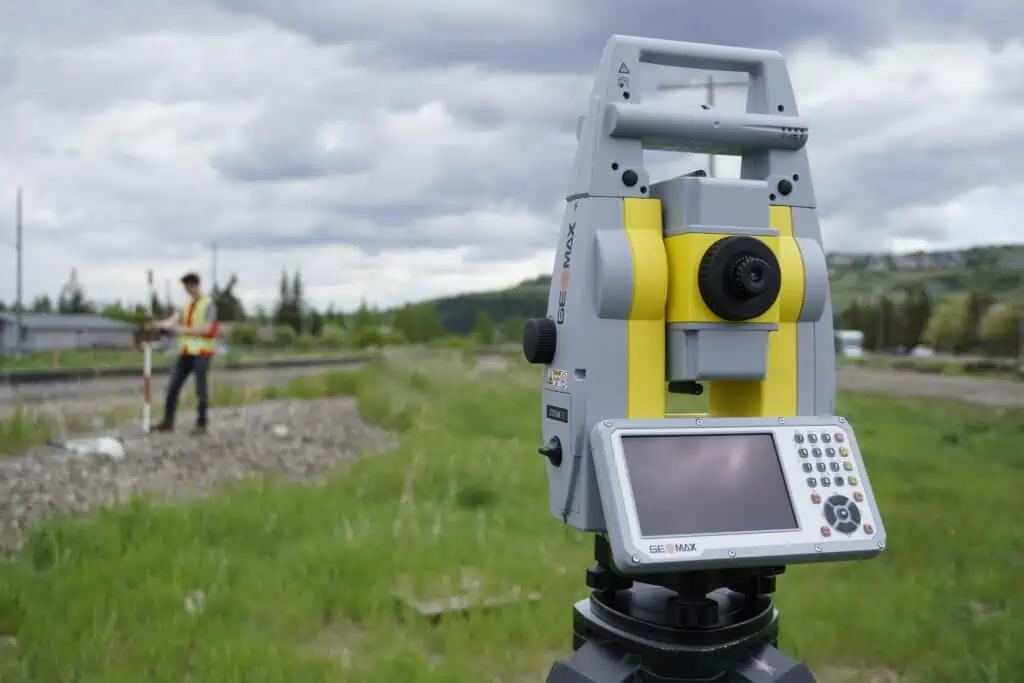 Juniper Systems has been one of the premier survey and rugged data collector manufacturers since their inception in 1993. They have been providing the toughest data collection solutions on the market to a variety of different applications including: agriculture, construction, mining, forestry, surveying, mapping and more. Juniper has built their data collectors to withstand the most difficult environments, whether that is a combat zone, a construction site, or whatever you can throw at it. 
Juniper has prided themselves in providing an American solution with headquarters and manufacturing facilities based in Utah. From their Utah facility, Juniper has produced some of the most popular and iconic surveying data collectors on the market. This includes the legendary Carlson Surveyor 2, Juniper's own Allegro 2, the Mesa 3 and the Archer family of products. Juniper is not just focused on surveying, with a host of innovative mapping, agricultural and even inventory tracking products. Whatever your application, if you need a data collection solution, Juniper has a product for you. 
The Mesa 3, is Juniper's latest itteration of their rugged Windows 10 tablet. The Mesa 3 is the most rugged Windows 10 tablet on the market. With Windows 10, you finally have a surveying grade data collector that is more than powerful enough to meet all of your needs. 
The Mesa 3 boasts Intels Quad-core Intel Pentium N4200 processor, that contains more than enough operating power to get through your day to day operations. The Mesa 3 is fully capable of running the most popular surveying software suites, including FieldGenius and SurvPC. It also has the ability to run all of your desktop applications as it is running a fully licensed version of Windows 10. 
The 8 GB of Ram and 128 GB of internal storage, which is expandable, is more than enough to run and load the large surfaces and drawings you need to work with. If you are used to working with Windows Mobile, this is a complete game changer. 
The Mesa 3 is built to the same rugged standards that all of Junipers data collectors are built to. This is backed up by the MIL-STD-810G rating, that includes tempaeruate, shock and water proof ratings. As well it is rated to IP68 dust and water proofing, allowing you to take it anywhere you need to work. 
The touch screen uses the same glass as the Mesa 2, and is designed to be used outside and stand up to scratches, glare and water. The chemically strengthened Dragontrail glass is designed to stand up to scratches and impacts. And just like the Mesa 2, the Mesa 3 has touch screen profiles that are optimized for rainy and cold conditions that would otherwise make using a touch screen difficult. 
As the Mesa 3 is designed to replace a PC in the field, and be easily integrated with a variety of different equipment types and applications, it comes with a host of ports and optional accessories to make working easier. This includes an optional barcode scanner, 9-Pin Serial Connector, and additional batteries. 
MicroSurvey is behind many of the best known survey software packages on the market. Their software is desined to collect, process and analyze your survey data, as well as to design and layout development projects. They have designed their software to meet the needs of a variety of industries, including geomatics, mining, forensics, construction and more. Their tools are designed to have everything an engineer needs, but to be easy enough for anybody to use. Whether it is FieldGenius for field work, MSCAD for drafting, or StarNet for quality control, MicroSurvey has a software package to meet your needs. 
MicroSurvey is based out of Kelowna, and their support is based their too. What this means for you, is that support is based in your time zone. Their is no trying to contact someone on the other side of the world, they are available when you are working. With our Bench-Mark created how to videos and cheat sheets you can quickly and easily learn the software. 
FieldGenius - The Ultimate Surveying Solution
Unlike everyone else in the industry, MicroSurvey does not sell hardware. They are exclusively focused on providing a software solution. This means they are not pushing their own hardware, they are the last of the open software solutions. Whatever your equipment, you can connect with FieldGenius. 
FieldGenius has several different software modules, but unlike a lot of other software companies, FieldGenius provides both total station and GNSS drivers in the base package. With the premium upgrade, you get access to the robotics and roading modules. 
We recommend using the S631 with FieldGenius for the best experience. 
We have designed our entire support experience on providing you all of the information you need. We have designed it to be as easy as possible to learn the software, with training, cheat sheets, and how to videos. 
We offer training to meet your needs. In the sessions we cover how to setup recievers, create a new project, and all the basics of how to run the software. We run the session over Zoom, often with 1-2 people making it easy to ask specific questions to meet your workflow needs. 
There is also an extensive cheat sheet and video library with workflows and guides on setting up equipment to staking a point. With over 200 videos and 50 cheat sheets, you can always find what you are looking for.