The advancement of Global Navigation Satellite Systems (GNSS) technology has revolutionized the way we navigate and conduct surveys. Over the last twenty years, surveying has fundamentally changed, and keeping up with all the advancements of one manufacturer can be hard enough. In this article, we are going to analyze two prominent players, Hemisphere GNSS and Trimble. This article aims to provide a comprehensive comparison of Hemisphere GNSS and Trimble, exploring their key features, product offerings, and industry applications. By understanding the strengths and weaknesses of each manufacturer, you can make informed decisions when selecting the right solution for your surveying needs.
Company Overviews
Hemisphere GNSS
Hemisphere GNSS is a global provider of precise GNSS solutions for a wide range of applications, including surveying, mapping, construction, and agriculture. With over 25 years of experience, Hemisphere GNSS has gained a reputation for delivering innovative technologies that enhance positioning accuracy and reliability. Hemisphere provided boards for Sokkia branded receivers and are well known for their agricultural brand Outback. Hemisphere is a manufacturer of boards and RTK engines. This ensures they have total control over their own products.
Trimble
Trimble is the original GNSS surveying equipment provider. They have been the company to provide many of the firsts in the civilian GNSS market. In 1980, they provided the first marine LORAN navigation system, in 1980, they provided the first commercial GPS positioning and GPS timing and frequency receivers, the first on-the-fly real-time GPS receiver with centimeter accuracy, and more. Trimble, is leading technology company, offers a diverse portfolio of positioning solutions across industries such as construction, agriculture, and geospatial. Trimble has a long-standing presence in the GNSS market, providing high-precision positioning products and services to customers worldwide.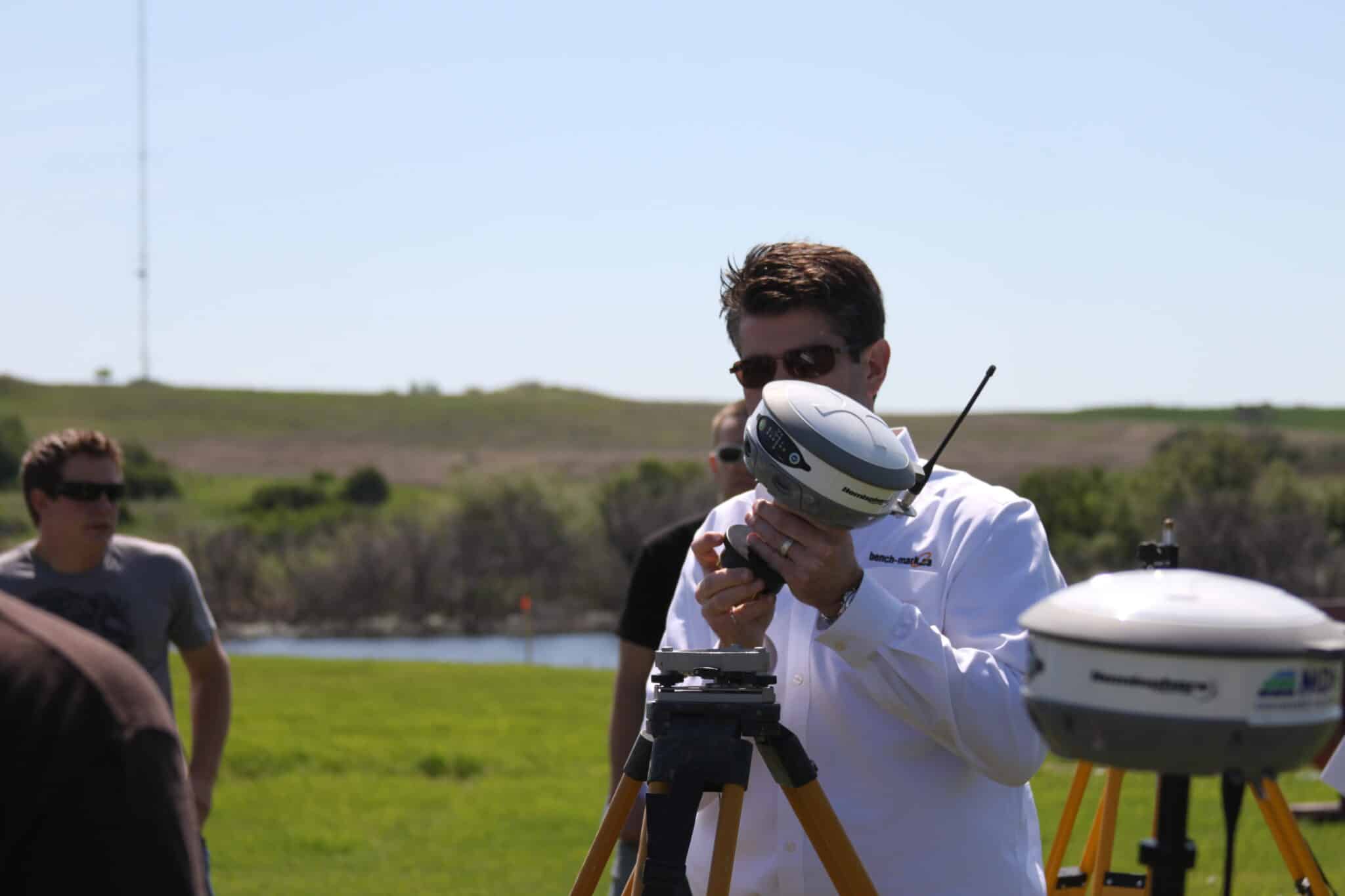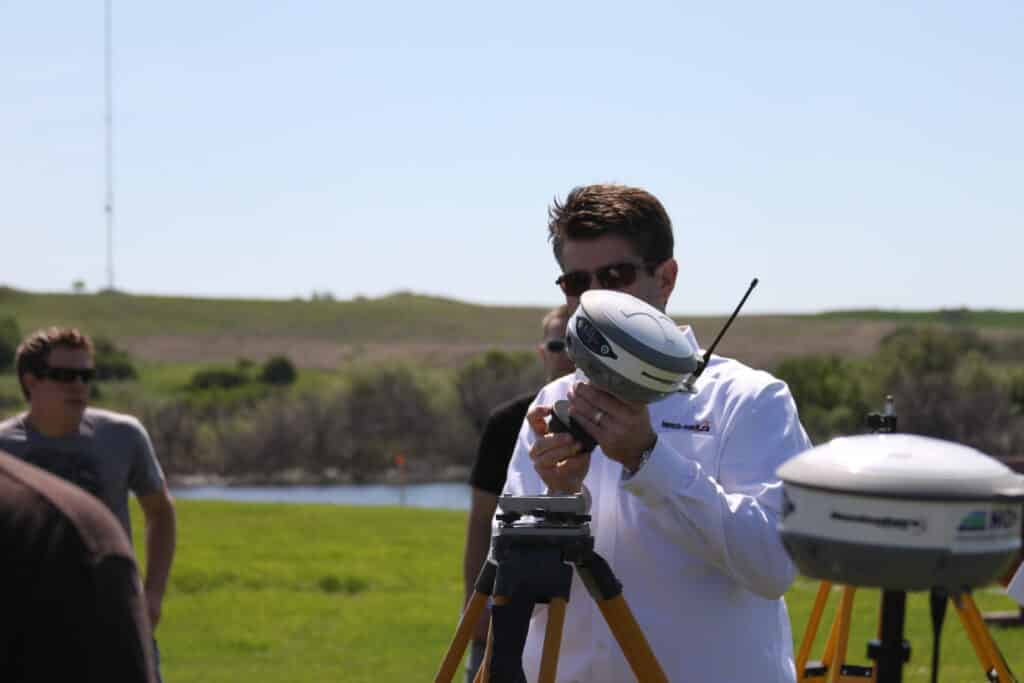 Product Offerings
Hemisphere GNSS
Hemisphere GNSS offers a comprehensive range of GNSS receivers, antennas, and software solutions. Their product lineup includes the versatile and cost-effective Vector series heading and compass antennas, the rugged and high-accuracy A series antennas, and the advanced multi-frequency, multi-constellation S series surveying receivers. These units are powered by Hemisphere's own chip and engine technology. Hemisphere GNSS products are known for their reliability, ease of use, and compatibility with various GNSS constellations.
Trimble
Trimble provides an extensive array of GNSS solutions tailored to specific industry requirements. Their product portfolio comprises high-precision receivers like the Trimble R10 and R12, which offer centimeter-level accuracy. Trimble also offers industry-specific solutions such as the Trimble GFX-750 display system for precision agriculture and the Trimble SPS986 GNSS Smart Antenna for construction applications. They also produce their own line of optical instruments. All of this hardware is also supported by their own proprietary software, like Trimble's Access.
| | |
| --- | --- |
| Hemisphere GNSS | Trimble |
| Hemisphere S631 | Trimble R12i |
| Hemisphere S321 | Trimble R10 |
| Hemisphere S320 | Trimble R8 |
| Hemisphere HA32 | Trimble AV17 |
| Hemisphere A42 | Trimble AV28 |
| Hemisphere A21/A31 | Trimble AV33 |
| Hemisphere A45 | Trimble AV59 |
| Hemisphere A46 | Trimble AG25 |
| Hemisphere V500 | No Integrated Unit (OEM Board Only) |
| Hemisphere V500R | Trimble AX940i |
| Hemisphere A631 | No Integrated Unit (OEM Board Only) |
| Hemisphere V200 | No Integrated Unit (OEM Board Only) |
| Hemisphere V123/V133 | No Integrated Unit (OEM Board Only) |
Hemisphere and Trimble Hardware Equivalents
GNSS Accuracy and Performance
Hemisphere GNSS
Hemisphere GNSS receivers employ advanced technologies such as Hemisphere's patented Athena™ RTK engine, which delivers some of the best under canopy and multi-path performance in the industry. Their receivers support multiple satellite constellations, including GPS, GLONASS, BeiDou, Galileo, and QZSS, enabling robust and reliable performance in challenging environments.
Trimble
Trimble is renowned for its industry-leading accuracy and performance. Their receivers leverage Trimble's proprietary technologies like SurePoint™, Trimble 360™, and xFill® to enhance signal reception, reduce downtime, and maintain positioning during signal interruptions. Trimble's solutions are designed to deliver centimeter-level accuracy even in complex scenarios.
Check out this video comparing the latest Hemisphere S631 to the latest Trimble R12i in difficult environments.
Industry Applications
Hemisphere GNSS
Hemisphere GNSS caters to diverse industries such as surveying, mapping, agriculture, marine, and construction. Their solutions enable precise land surveying, GIS data collection, machine control, and guidance for agricultural machinery. Hemisphere GNSS receivers are known for their adaptability and cost-effectiveness, making them a popular choice for a wide range of applications.
Trimble
Trimble's GNSS solutions find applications in sectors like construction, agriculture, geospatial, and transportation. Their offerings support tasks such as machine control, land surveying, precision agriculture, and 3D mapping. Trimble's software ecosystem, including Trimble Access™ and Trimble Business Center, provides efficient data management and seamless integration with other Trimble solutions.
Both Hemisphere and Trimble provide hardware in the form of GNSS chips to other manufacturers that then integrate the technology into their equipment.
Support Service
Hemisphere GNSS
Hemisphere GNSS offers comprehensive customer support and training programs to ensure the successful implementation and operation of their solutions. They provide online resources, technical documentation, and access to knowledgeable support personnel, ensuring that customers receive timely assistance and maximize the value of their Hemisphere GNSS products. Hemisphere is also a vendor independent hardware provider. For any software manufacturer that wants to put drivers for their hardware are able to do so.
Here at Bench-Mark we offer comprehensive training and support for all Hemisphere products.
Trimble
Trimble is renowned for its global support network and customer-centric approach. Their support services include technical assistance, product training, and software updates. Trimble's extensive distributor network ensures prompt on-site support, while their customer portals and forums facilitate knowledge sharing and problem-solving. However, Trimble does not offer any vendor neutral solutions. Their hardware does not work with over software packages like MicroSurvey's FieldGenius and Carlson's SurvCE.
Pricing and Cost Effectiveness
Hemisphere GNSS
Hemisphere GNSS is known for providing cost-effective GNSS solutions without compromising on performance and accuracy. Their products offer competitive pricing compared to other industry players, making them an attractive choice for customers seeking affordability without sacrificing quality.
Trimble
Trimble's high-precision GNSS solutions often come with a higher price tag due to their reputation of advanced features and industry-leading performance. This higher price has become less justified in recent years, as competitors' technology has caught up. The real advantage of the Trimble price is their integrated ecosystem of hardware and software. Much like Apple, it is a walled garden.
Conclusions
Both Hemisphere GNSS and Trimble are reputable providers of GNSS solutions, each with its unique strengths and advantages. Hemisphere GNSS stands out for its cost-effective offerings, adaptability, and ease of use, making it suitable for a wide range of applications. On the other hand, Trimble excels in delivering industry-leading accuracy, performance, and comprehensive support services, making it a preferred choice for customers with stringent requirements.
Ultimately, the choice between Hemisphere GNSS and Trimble depends on factors such as specific application needs, budget, and the level of precision required. It is recommended to evaluate these factors thoroughly and consult with experts in the field to select the solution that best aligns with your surveying requirements, ensuring optimal performance and return on investment.
Bench Mark Equipment & Supplies is your team to trust with all your surveying equipment. We have been providing high-quality surveying equipment to land surveyors, engineers, construction, airborne and resource professionals since 2002. This helps establish ourselves as the go-to team in Calgary, Canada, and the USA. Plus, we provide a wide selection of equipment, including global navigation satellite systems, RTK GPS equipment, GNSS receivers, and more. We strive to provide the highest level of customer care and service for everyone. To speak to one of our team today, call us at +1 (888) 286-3204 or email us at [email protected]